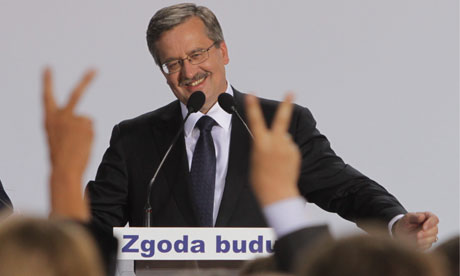 After a dramatic night for Polish democracy, Bronisław Komorowski of the ruling liberal-conservative Civic Platform (PO) emerged as the winner in the presidential election run-off, held on Sunday (4 July).
The election proved to be tighter than opinion polls had suggested. According to the state electoral commission Komorowski won 53% of the vote and Kaczynski 47%. Kaczynski's supporters were heartened because their candidate did far better than expected weeks ago. The tragedy of Kaczynski's brother's death in the Smolensk catastrophe reshaped the public image of Kaczynski, who only months ago was one of the country's least popular politicians due to his combative and divisive style. Many Poles remember the chaotic government he led from 2006-07 and his zealousness in trying to eliminate former communists from public life – an approach that critics described as a witch-hunt.
Both presidential candidates were former anti-communist activists, but Kaczynski is a nationalist who has worked to promote patriotic and conservative Catholic values, making him popular among rural Poles and older voters. Thus he received the church's support during his campaign and church still holds a lot of power in Poland. Komorowski, the scion of an aristocratic family, has a traditional Catholic background but he favours a greater separation of church and state and has stressed the need to modernise Poland, the largest of the ex-communist countries to join the European Union in recent years.
Pointing to the relatively high turnout (more than 54%), in his first comments Komorowski claimed that his victory was not personal but that "democracy [had] won". More than 23 million Poles had the right to participate in the election. A father of five and a politician known for his calm temper,
Komorowski will become Poland's fourth democratically-elected head of state since the fall of communism in 1989
. Poland's president has many ceremonial duties, but can also veto laws, and as commander-in-chief has influence over foreign military operations.
Komorowski's victory will be a huge boost to the pro-EU and pro-business government of the prime minister, Donald Tusk. He is a key member of Tusk's Civic Platform party and will not be expected to veto any new legislation it proposes, including plans to trim the welfare state. Komorowski wants to smooth the way for the government to continue privatising state-run companies. Komorowski will also support the government's efforts to heal old wounds with Germany and Russia. The Civic Platform will have the comfort of power and no more excuse not to reform the state.